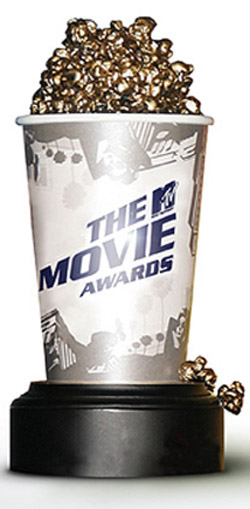 This week was the MTV Movie awards in which golden popcorn statuettes were handed out to celebrities who will, most likely, snort cocaine off of them for the next several years.
By and large, actors who win MTV Movie awards will never win an Oscar.  They don't want an Oscar either.  You know why?
Well let me just put it this way – Kristen Stewart made a whole lot more money off of the Twilight series than Jennifer Lawrence made off of Winter's Bone.  Lawrence got an Oscar Nomination.  Stewart got a Porsche.
What is Lawrence doing now?  The Hunger Games.  No Oscar but a golden popcorn statuette and  I'm betting there's a Porsche in her driveway.  I'd bet that she'll be playing Snow White sometime in the next year.  Everyone else is.
MTV eschews awards like "Best Cinematography" because who the heck went to Twilight: Breaking Dawn Part 1 for the cinematography?  We can take a guess at what draws audiences to the film simply by noting it received the coveted "Best Kiss" trophy.
Other meaningful awards included "Best Gut-Wrenching Performance" and "Best Dirtbag."  Surprisingly, that last award didn't go to whoever came up with the MTV Movie awards in the first place.
Stewart, whose fortuitous casting in the Twilight films has resulted in more golden popcorn statuettes than she can fit in her "awards I don't give a shit about" display case, added a couple more to her haul.   At this point, I expect she just hands them out to adoring fans because it's easier than signing autographs.
The mystery surrounding who will win the awards is so nonexistent, they actually gave Stewart the 2013 award for best kiss since she was there anyway.
Christian Bale showed up to accept his best actor trophy for The Dark Knight Returns and launched into an obscenity laden tirade when he learned he would have to wait until next year.
Host Russel Brand was, so far as I could tell, British.
In all, the awards are as much of a waste of time as anything else currently broadcast on MTV.
Lawrence couldn't even be bothered to show up and accept her best actress trophy for The Hunger Games.
I presume she was probably out driving her Porsche.