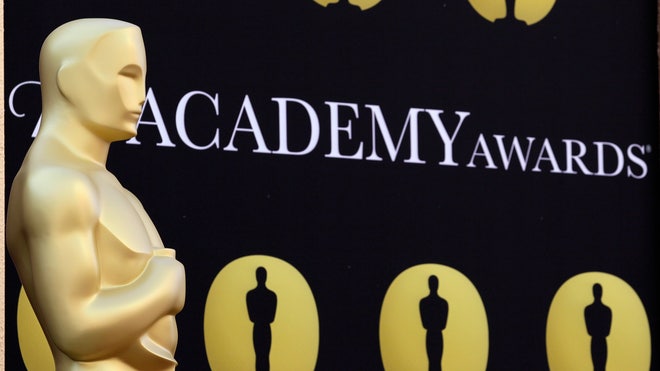 Today's article will be my live reactions to last night's Oscar telecast.  If you missed it, I hope that you'll feel like you were there.
6:17  - We are seventeen minutes into the pre-show and I've learned that Kisten Chenoweth is 4'11″ tall.  I still don't know who she is but damn is she short.
6:27 – Every time I see another trailer for Jack the Giant Killer, I'm less interested in seeing the film.
6:32 – They just introduced the "handsome" Joseph Gordon Levitt.  Well thank goodness they found the handsome one.  It would have a been a real challenge to think up a descriptor if the ugly one had shown up.
6:39 – The Oscar mystery game is quite possibly the least interesting thing about the Oscars except the short subject awards.  Whoever thought that up has never been nominated for an Oscar and never will.
6:47 – I changed my mind.  I'm more interested in the short subjects.
6:50 – Holy fuck?  Hugh Jackman is Australian!  I thought Wolverine was a Canadian!
6:53 – Robert DeNiro is such a badass, he doesn't even pretend to comb his hair.
6:58  - DeNiro is also apparently the only guy at the Oscars who remembered to shave before he got into the limo.
7:17 – Abraham Lincoln is from Britain? Holy fuck! Does that mean the civil war didn't happen????
7:22 – Kristin Chenoweth just gave the show Producers a bottle of antacids in a moment that was probably conceived of by the Producers.  Ha ha!
7:28 – I'm pretty sure they stuck Anne Hathaway's Oscar under her seat to save some time.
7:34 – It's OK, you can make fun of Chris Brown.  He's not there.
7:38 – Eight minutes in and Seth McFarlane is never going to host the Oscars again.
7:52 – Christoph Waltz is played off by the theme for E.T. Because um…..
8:00 – Oh fuck.  They let a guy wearing a kilt into the theatre.
8:08 – First a guy in a kilt and now a hippie wins an Oscar.
8:11 – Apparently, turning Mark Ruffalo into the hulk and creating a fucking helocarrier is less impressive than a CGI tiger.  Whatever.
8:27 – I'm pretty sure that Quentin Tarantino had an orgasm while Dame Shirley Bassey was singing.  I will pay one million dollars for a shot of his pants.
8:29 – Boy, I sure hope whoever edited together that lame-ass Bond tribute isn't nominated for an Editing Oscar
8:42 – And we have a John Wilkes Booth joke!  Best Oscars Ever!
8:47 – They just gave an Oscar to white South Africans.  Wow have we come a long way since the 1980′s.
8:50 – Foreign film award. TLDW.
8:51 – (Amour wins Best Foreign laguage film) Well, guess who just lost the Oscar for Best Picture?
8:59 – This whole musical section is for the gays, right?
9:14 – Sound Effects editing was a TIE!  Most exciting thing that ever happened in this category!
9:17 – Apparently all sound effects editors have long, blonde hair.  It's a glamour profession.
9:24 – And the Oscar for the most unsurprising award ever given at the Academey Awards goes to the 2013 award for Best Supporting Actress
9:25 – They just played Hathaway off to "The Godfather!" WTF????
9:33 – I like how they put all the nominees into a box so you can see the expressions on all the loser's faces at once.
9:39 – Wow.  In the Bond theme throwdown, Adele just rolled over and showed Shirley Bassey her belly.
9:53 – It's time for the the "oh shit, we'd better give an honorary Oscar to these guys before they die" segment of the show.
10:03 – Barbara Striesand has arrived to kick Seth McFarlane's ass for the Jew jokes.
10:09 – Music awards continue to prove that Oscar voters know nothing about music.
10:19 – Someday Adele's kid will hear the joke: "Your mom is so fat that she won an Oscar and a shit-ton of Grammies."
10:23 – Charlize Theron and Dustin Hoffman stand next to each other and it looks like a Dwarf from The Hobbit standing next to Galadriel.
10:30 – Quentin Tarantino gets played off to "Gone With the Wind." Ironically, his character Django went on to kill every character in "Gone With the Wind" right after Rhett walks out at the end of the film.
10:33 – Ang Lee thanks the movie god but tactfully does not specify if it is George Burns or Morgan Freeman.
10:35 – And Ang Lee walks back stage and immediately hands the Best Director trophy to Ben Affleck.  At least that is what would happen if he had any self respect.
10:43 – Jennifer Lawrence trips on the stairs and becomes the leading clip on all the next morning's Oscar recaps.
10:45 – It appears Meryl Streep just scratched her butt.  The odds are very good that she will be nominated for an Oscar because that moment was so convincing.
10:49 – Daniel Day Lewis has the creepiest laugh in the history of Best Actor winners.  Sorry Jack Nicholson.
10:52 – And speaking of Jack Nicholson…here's Michelle Obama!!!  WHAT????
10:57 – And Ben Affleck wins for best Dire….Picture.  Close enough, right?
11:00 – And now Ben Affleck has ensured that I will always associate Jennifer Garner with Iran. Fuck you Ben.